Travelling backpack


Item Code: 35169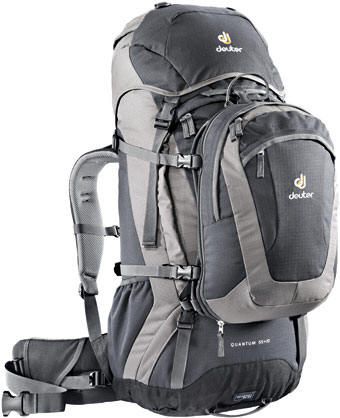 Price: RM 685
Retail: RM 749

Features:

* Capacity: 55 + 10L (+ 18L daypack)
* Dimensions: 78 x 32 x 22cm (34cm with daypack)
* Weight: 2750g
* material: Ripstop-Polytex / Duratex


» Vari-Quick Adjustable Shoulder Harness
» Internal Stays for Heavy Load Support
» Integrated, Detachable Transport/Rain Cover
» Rain Cover Converts to Transport Duffel for Protection During Travel
» Detachable, Expandable Daypack for Side-trips
» Side Water Bottle Pockets
» Hip Belt Pocket
» Top/Lid, Bottom, and Large Front Panel Access
» Divided Main Compartment with Zip Liner
» Contoured, Padded Shoulder Straps with 3D AirMesh
» Breathable foam back.
» Dual access main compartment: through the lid as usual or via the U-shaped zip at the front, like a suitcase.
» Lid compartment and height adjustable lid closure.
» Separate bottom compartment and side mesh pockets.
» Narrow fit travel bag
» Detachable daypack with front pocket

Optimal Easy Access

Large Rectangle Opening Compartment Access like a Softside Luggage! One Large Two Zipper Panel Rolls Back For Quick Access To A Large Main Compartment - Pack Rolled Suit, Shirts, Pants, Underwear/Nickers; Big For Jacket Liner, Windcheaters... Stay In Control Of Bulk With Well Positioned Load-Compression Straps. This Will Qualify On Many United Airlines Flights As Carry-On When The Day Pack Is Separated And The Load is Compressed Down To A Qualified Size (Our Equipment Technologist Has Tested This On Many Ocean Crossing International Flights And Flights Crossing The U.S. In Larger panes With Full Size Overheads. Lifestyle Accessories A Separate Compartment In Base Is Perfect For Shoes; Jacket Or Dirty Clothing. Maximize Efficiency By Using Our Barrier Bags For Sealing In Damp, Dirty And Smelling Items; Isolating Them From The Rest of Your Clothing And Stuff!

Cargo Check-in Friendly

When The Load Is To Be Checked-In With An Airline, A Cargo bag Is Ready To protect Your pack From Unnecessary Dirt, Splashes, Oils, Snow, Slush, And Other Contaminates Along The Airport Luggage Handling Path - Conveyors, Carts, Outside Exposure, Other Contaminated Luggage! Also Fantastic During Storage At The Hostile, Hotel, Motel!
Zipped Access Panel, Grab-Handle, Carry Handle, ID Windowed Pocket.


Detachable daypack
Room For Personal Essentials And Impart Items That Simply Cannot Leave Your Side. Quickly Zips Off For Airline Carry-On Boarding. Fits Under Seat And Most Airline Overheads. Has A Top Grab Carry Handle, Ergonomic Shoulder Straps, One Large Comport With Organizer Pockets And One Quick Access Outside Pocket. Zipper Rain Flaps Help Keep Rain Out.


* Dealing method: POS Laju
* Shipping Cost: W.Malaysia RM 15, E.Malaysia RM 18
* Payment method: Maybank2u